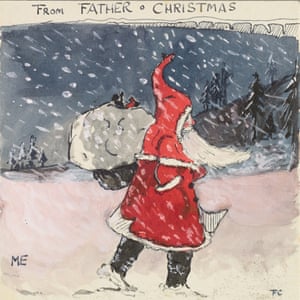 "In December 1920 Father Christmas wrote a letter to a modest house in the Oxford suburbs, enclosing a watercolour sketch of his own rather more exotic domed snow house, approached by a flight of steps lit by ice lanterns. "I heard you ask Daddy what I was like and where I lived," he wrote to three-year-old John Tolkien, and as the family grew to four children, he continued to write every Christmas for 23 years, until the youngest, Priscilla, was 14.
The letters followed the children to several addresses in Leeds where their father, JRR Tolkien, took up a university post, and then back to Oxford when he became professor of Anglo-Saxon. They were eventually delivered to a much larger house, which has now been listed, despite its scant architectural interest, as the birthplace of the books that spawned a publishing and movie empire, The Hobbit and the Lord of the Rings trilogy."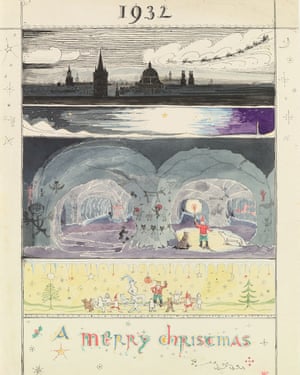 (Link to the full article – From the North Pole to Middle-earth: Tolkien's Christmas Letters to His Children)
Tolkien's imagination birthed an entire world, a universe, but it also created something as simple, but as wonderful, as a Christmas letter. This morning, I think, I can do something similar, something I give to my children and their children. Here's my idea, a first draft mind you, but perhaps a draft that will grow into something that will last.
______________________
Now children, mind you, and be very aware, I've left you much more than toys, although they are wonderful, indeed; yes, I do hope you laugh with these new friends, red trucks and grumbling trains, soft bears and smiling dolls, but I've also shared, hiding each in the shadows that fluff the space between the boughs on your Christmas tree, ribbons of kindness that smell of cinnamon, a sweet as subtle as silk. Pin these ribbons to the hearts of those who touch your day, gift them to those who need gifts, who need to smell the fragrant sugars of kindness. I'm quite certain, your Christmas will be far more magical, merrier than you've ever dreamed.
Always your friend,
Mr. Kringle