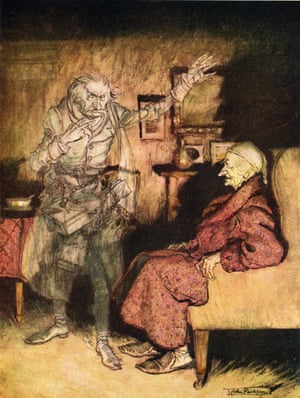 I read an wonderful article this morning focused on Charles Dickens and his Christmas classic A Christmas Carol.
In it, the author writes, Dickens, too, told a friend that he had composed A Christmas Carol in his head as he walked about "the black streets of London, fifteen and twenty miles, many a night when all the sober folks had gone to bed." The images that came to him then were of spirits and phantoms, aspects of a dream city in which nothing remained stable – least of all the past, the present or the future, which live like unearthly protagonists in the story Dickens created. The London he made in A Christmas Carol is as much haunted by its citizens as inhabited by them.
Dickens takes Scrooge on a journey in which time and space have no solidity, through a London of the imagination, using fictional registers that would have immense influence on ways in which Christmas is celebrated to this day.
When Scrooge looks out of the window he sees the air "filled with phantoms, wandering hither and thither in restless haste, and moaning as they went". The Ghost who propels Scrooge is merciless and relentless, forcing him, at first, to live in a time when past and present merge. Some of the images he sees are of comfort and joy, but they are experiences in which he cannot share. They are disrupted by what he can hear, as the happy people are discussing him. One man, for example, who is enjoying domestic bliss, says: "I passed his office window … and there he sat alone. Quite alone in the world, I do believe."
Gratefully, I've been blessed with an idea, a wonderful, awful idea.  What will happen to Scrooge's spirit upon the old man's death? I've not the time to write more now, but stay tuned, so to speak.